This has been a rough week in sports for me. Last night the Golden State Warriors won the NBA Championship (I'm a huge OKC Thunder fan so if you know basketball I'm sure you can put two and two together on why I was rooting for the Cavs.)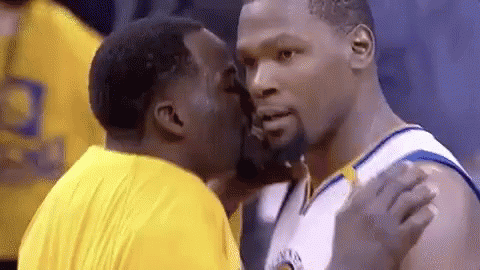 "You'll never be able to beat us so just join us!"
Sunday night the Nashville Predators lost the Stanley Cup to Pittsburgh (I'm not a die-hard hockey fan but I really, really love the town of Nashville and was definitely pulling for them – plus their goalie chant was #goals … see what I did there?)
Trolling level at 100.
But the biggest loss for me this past week was when I heard the news that Bob Stoops was stepping down as head coach of my Oklahoma Sooners and retiring for good. The news hit me like: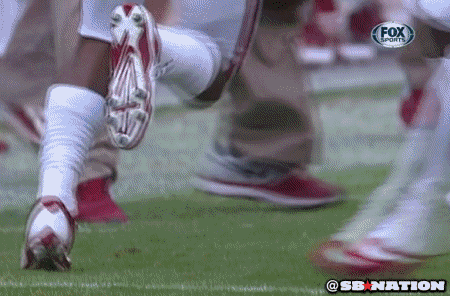 It literally came out of nowhere and I was not emotionally prepared to deal with that at work last week. His replacement will be Lincoln Riley who has been the offensive coordinator for the Sooners for the last two seasons.
Don't get me wrong, I think Riley will do a great job and I believe that he has the entire Sooner Nation's support. I just think Bob's retirement announcement was such a shock after 18 seasons; especially to people my age who have only known Sooner Football when Bob Stoops was head coach.
I didn't grow up as an OU fan. My dad attended Texas State University and my mom didn't go to college. So I didn't really have any ties to a football program and mainly just supported the Dallas Cowboys when I was younger because I'm from the DFW area. Once I decided that I would be attending OU though, I became a die-hard.
I think I only missed two home games during my four years as a student at OU. I hated leaving the games early. And if we lost… you bet I went straight home to sulk in my dorm room instead of hitting Campus Corner with the rest of my friends. "Win or lose, we still booze" is fun in theory, but I was usually just too sad to participate.
Me when people acted like there was anything to be happy about after an OU loss.
---
My junior year of college I took a sports journalism class taught by a well-known radio personality in Norman named Al Eschbach. We wrote a lot in his class but another big part of it was the guest speakers he brought in. If someone was a big name for OU sports he knew them and he would bring them in.
One particular class I knew Barry Switzer was coming to talk to us. I was running a couple of minutes late and was pretty stressed out about it because I didn't want to miss a minute being in the same room as a legend like Switzer. Usually I would take the stairs up to the third floor where the class met. On my way to the stairs I noticed the elevator door was open. I figured it would kill a couple of seconds at least and save me from showing up out of breath from running up the stairs. I hop on the elevator and to my surprise I was standing next to Barry. Of course I'm panicking internally because I mean… it's Barry Switzer, y'all. He looked at me and said, "What does your shirt say?" I replied, "Norman." He said, "Oh, I thought maybe it was a sorority shirt. My daughter was a Chi Omega." Cue more internal panic because I was also a Chi Omega. He then said, "I'm tardy to class. I hope I don't get in trouble." And I said, "I think we're going to the same place so we can be late together." Then we walked into Al's class at the same time and he spoke to us for an hour about everything under the sun. So basically, that was the coolest elevator ride of my life.
Ok, sorry for getting distracted – back to Bob. Bob also came to talk to the class one week. We got to ask him questions, listen to his stories about recruiting and his favorite wins and most hated losses. I can't remember everything that was said or if I even asked a question, but I remember thinking how cool he was and how much I respected him as a coach and a person. He was down-to-earth and not too good to spend an hour talking to fifteen college students, during football season, about his huge role as the head coach for one of the most prestigious football programs in the country.
Big Game Bob. That's what they called him after a few seasons at OU. Only one season under his belt as the OU head coach and he ended up going undefeated and helped the Sooners get their 7th national championship title in 2000. Big Game Bob was the best. Towards the end of his era, sometimes Big Game Bob didn't necessarily always hold up to the Sooner Nation standard though. I was there in Miami when we got embarrassed by Clemson in the playoffs. I was there when we shockingly lost our first game of the season to Houston. Regardless of those losses though, people still loved and respected Stoops. None of those games changed what he had done and continued to do for the program.
Stoops made Oklahoma Football great again starting in 1999. He is the winningest coach in OU history and led us to a national championship win, 10 Big 12 titles and 14 seasons with double-digit wins. No one can deny that he was an amazing coach. And if he thinks it was time, then so be it. I'm sad to see him go, as I know many Sooner fans are, but I imagine great things will come during Riley's reign as head coach in the near future.
Since 2000, the Sooners have been on the Chase For Eight and I have a good feeling Lincoln Riley will help them catch that title. We love you, Big Game Bob. Thanks for making Oklahoma Football great again.
Here are some of my favorite things about Bob Stoops:
His relationship with his players. Talk about water works.
His locker room speeches. Ugh, my heart!
His heart for people. (Shout out to my sorority sister, Christina, for this awesome story!)
And as much as I didn't want him to go – the way he went out with class.
Here is one thing I didn't like about Stoops:
His ability to escape those dang Gatorade showers… because everyone loves seeing a good Gatorade shower after a win. 
Bob: "Not today, Satan!"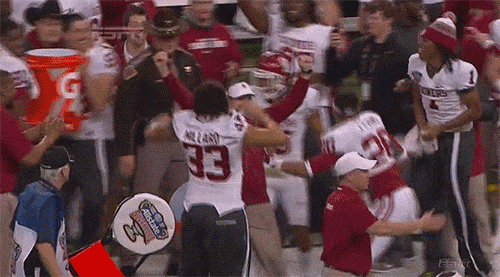 Thankfully, they did get him every now and then 🙂